听力部分
考试概述
话题范围:旅游+音乐剧场参观+调查讨论+环境
套题练习推荐:C11test1
环境类练习篇目推荐:C12-3-4; C13-1-4
本次考试题型以填空为主,匹配题占据大部分占比,除了小编推荐的套题外,建议大家可以下去用剑桥14,15练习,熟悉匹配题的做法并多进行同意替换的总结~
Part 1
旅行前的咨询
难易度: 简单
题型:填空
1.13 July
2.Temple
3.ferry
4.moderate
5.dancing
6.castle
7.breakfast
8.house
9.Harvey(保险公司的名字)
10.45 days
Part 2
交响乐(音乐剧场)
难易度: 一般
题型:选择(2多选)+匹配
11. C looking for younger players
12. D rehearsal twice a week
13. C one performance will be recorded for TV
14. D perform on a tour around local area
15. Sky theatre B
16. Orange theater F
17. Coco theare D
18. City players A
19. Roman theatre G
20. Green art theatre E
Part 3
关于学习的调研讨论 新题
难易度: 一般
题型:选择+匹配
outgoing
USA
additional
personal interests
using phone
flexibility of study time
Free
(答案有出入,顺序有颠倒,仅供参考)
Part 4
气候与建筑
难易度: 一般
题型:填空
31.cities
32.bank
33.acid
34.stone
35.glass
36.rainfall
37.wood
38.soil
39.movement
40.guidelines
词汇补充
同义替换词
make the arrangements for entry = manage entry
in advance = before
need to know = will be informed
harm = frighten or injury
not touch tools= stay at a safe distance from tools
investigate = find out
important = significant
reduce stress = relax
talk to a professor = make an appointment to see one of the science professor
important = significant
target = locate
identified = located
higher = relatively high
sufficient = enough
under = below
establish = create
reduce = lower
阅读部分
考试概述
本场考试阅读整体难度偏大,从开篇文章开始就出现了匹配题,参加考试的童鞋难免心态炸裂图片图片
Passage 1
文章题材:说明文(人文社科)
文章题目:新旧公园
文章难度:★★★★
题型及数量:heading主旨匹配题+人名匹配题+选择题
题目及答案:待补充
可参考:剑桥14——TEST2 Passage3 Why companies should welcome disorder
Passage 2
文章题材:说明文(自然科学)
文章题目:珊瑚礁
文章难度:★★★★
题型及数量:段落信息匹配题+判断题+选择题
题目及答案:(供参考)
14. A
15. C
16. C
17. D
18. E
19. D
20.TRUE
21.TRUE
22.NOT GIVEN
23.NOT GIVEN
24.TRUE
25.NOT GIVEN
26.C
可参考:剑桥13——TEST4 Passage2 Saving the soil
Passage 3
文章题材:说明文(人文社科)
文章题目:游轮泄露
文章难度:★★★★★
题型及数量: 待补充
题目及答案:待补充
可参考:剑桥11——TEST2 Passage1 Raising the Mary Rose
词汇补充
话题词
植物类
1. scent气味
2. bark树皮
3. cultivate人工培养
4. mineral矿物质
5. fertilizer化肥
6. tropical热带的
7. desert沙漠
8. germinate发芽
9. seed种子
10. chemicals化学物质
同义替换词
1. prevent/preclude/stop/halt 阻止
2. abundance/sufficient/adequate/considerable/a great deal 大量的
3. influence/impact/effect 影响
4. effective/productive有生产力的;有效率的
5. initiate/start/launch/open/set in motion开始,发起
6. refer to/mention/allude to/touch on提到
7. be divided into/separate/split/break up/break down分开
8. recognize/know/identify/pick out 认出
9. conclude/summarize/come to/reach the conclusion得出结论
10. die out/extinct/disappear/no longer exist 灭绝
写作部分
小作文
类型:饼图,共三个饼图,头一个是咖啡生产地,第二个是咖啡的消费,第三个是咖啡的利润。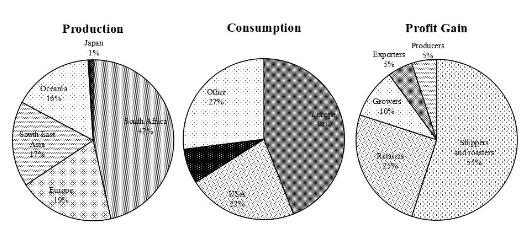 These pie charts illustrate coffee production, consumption and profit distributed on a world basis.
As regards where coffee is produced, it is clear from the chart that South Africa contributes to the major coffee, generating over 40% of the world total production. This is followed by Europe, South East Asia and Oceania, with less than a half amount of coffee yielded compared to that in South Africa.
When it comes to the sales, that in Europe doubles more than USA (80% together). However, this is not the same case in Japan, who imports only 7% of the coffee produced.
Moving on to the profit of industrial chain, delivery accounts for the largest revenue, with approximately a half of the whole income, in comparison to a quarter of retailers. About 10% of profits flow to exporters, while a similar amount of money is earned by producers as well as exporters.
Overall, even though South Africa manufactures the largest amount of coffee, most of them is transported to Europe, and thus the profits of shippers and roasters are the highest.