Some people say that artworks (e.g. painting, music, poetry) can be created by everybody, whereas others say they can only be made by those with special ability. Discuss both views and give your own opinion.
题目大意
有些人说艺术品(如绘画、音乐、诗歌)可以由每个人创作,而另一些人则说它们只能由有特殊能力的人创作。讨论这两种观点,并给出你自己的意见。
写作思路解析
艺术应该属于大众
有人认为,艺术只能由有相关专业知识的人来创作,一旦一件作品可以被定义为"艺术",我们就必须提供一套标准,从美学的角度对它进行评级。换句话说,每一件艺术品都应该得到合理的定义、分类和评级,这意味着创作者必须建立一定的艺术知识体系,甚至通过权威机构的资格认证,以保证他们的作品在某种程度上是正统的,经得起批评。所以,在公之于众时,无论是它的流派,它的风格,还是它所表达的审美价值,都是值得评论的。
上述观点,正如其他人所说,是有点荒谬的;它剥夺了我们深入思考艺术本质的能力。艺术精神从一开始就是"畅所欲言",一旦一件作品受到大众的欣赏,就应该把它当作艺术品来评价,而不管有什么规则可以用来质疑它。谁说不应该鼓励一个普通人通过绘画或谱写乐章来自由抒发情感?抱着艺术品不应由多数人创作的观念,不仅阻碍了许多人的创造力,也违背了我们对人性的追求--艺术实践最终只可能成为少数人的特权。
提纲梳理见下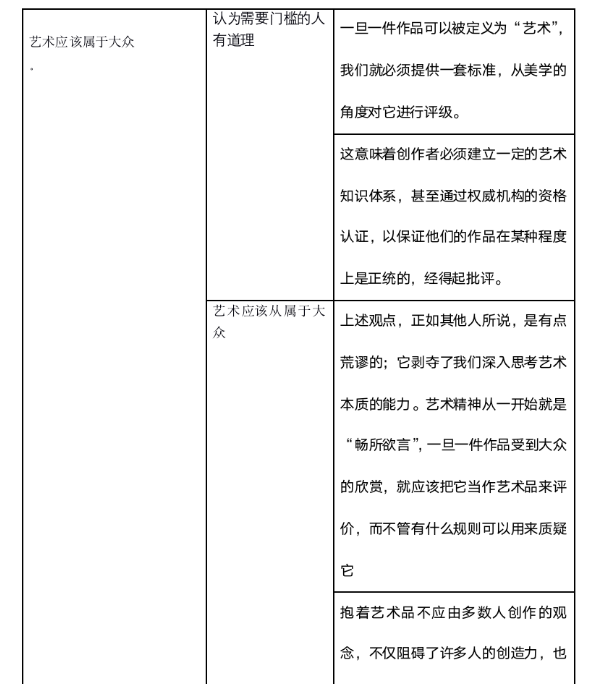 高分写作示范
To assess whether artworks can be created by common people or solely by those with expertise, one has to first provide a clear definition of "art".
There are people holding that art can only be made by those who have expertise in related areas; in their opinion, once a piece of work can be defined as "art", we must provide a set of criteria to grade it in terms of aesthetics. In other words, every artwork should be rationally defined, categorized and rated, and that means producers must have set up certain knowledge systems of art or even been qualified by the authorities to guarantee that their pieces are to some extent orthodox, withstanding the criticism. Therefore, when exposed to the public, it deserves the comments in terms of, say, the schools it belongs to, the styles it possesses, or the aesthetic values it expresses.
The thinking listed above, as others would argue, would be somewhat ridiculous; it deprives us of the ability to deeply think about what the essence of art is. The artistic spirit from the outset is "to express feelings freely", and once a piece of work is appreciated by the public, it should be valued as an artwork, regardless of any rules that can be applied to question it. Who is to say that a common person should not be encouraged to express feelings freely through drawing a picture or composing a musical movement, from which the aesthetic values can be sensed, but cannot be qualified by any academies? Holding the idea that artworks should not be created by the majority not only precludes many people's creativity but violates our pursuit for humanity--art practice may finally become the privilege of the minority if common people are not entitled to get access to it.
In conclusion, while it is understandable for the art to be constrained to the people who have special abilities, I would argue that it belongs to anyone who is with the willingness of artistic expression.