Some people think that if a country is already rich any addition in economic wealth does not make its citizens happier. Do you agree or disagree with this statement?
题目来源:2020年1月18日大陆雅思大作文
题目大意
有观点认为如果一个国家已经很富有的话,那么任何经济增长是无法增加人民的快乐度的。同意反对?
写作思路解析
➡️一般同意反对类的题目,题目所给出的结论多数情况下要么是缺乏具体的前提,或是前提的合理性不足,所以一般选择反对的立场,缺乏前提或因果缺乏必然性就是反对的首要理由。
➡️这道题目的前提是国家已经富有了,更多的财富就无法增加人民的快乐。这种逻辑的问题就是快乐并不仅仅来自经济发展所带来的物质财富,而是可能来自经济发展的其他方面,如成就感,和对于自己贡献的自豪;因而即使对富国而言,进一步的经济发展依然有可能给人民带来快乐。
提纲梳理见下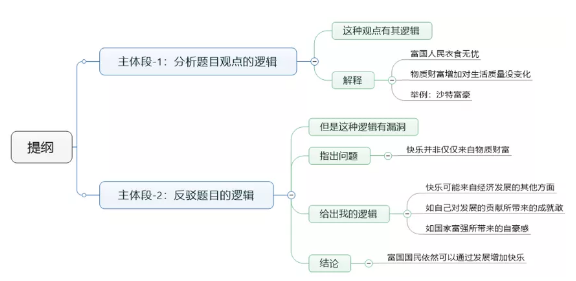 高分写作示范
There is a prevailing opinion that people in affluent countries are less likely to achieve higher satisfaction from further advances in economy. From my perspective, I tend to say such an assertion is irrational because of the lack of causal relationship between material wealth and happiness.
Granted, it is easy to understand why the concept in topic has crept into the understanding of many people. From the perspective of the protagonists of this, those living in developed countries have already led a decent life of high living standard, meaning that the growth in material possess does not make huge difference to their life. In this respect, they might be less likely to feel further happiness. One compelling example might be the millionaires in Saudi Arabia: it seems difficult for them to see the wealth growth as anything other than bland numbers in bank account.
Plausible though the assertion seems, I tend to say it does not necessarily mean that the citizens in rich countries are indifferent to the advance of economy. Those advocates of the theory in question are oblivious to the fact that it is simple-minded to calibrate happiness with the standard of material possesses, whether these be money, luxuries, cars or properties. Instead, citizens' appreciation of lives might have come from various facets of booming economy; for example, the sense of achievement for their contributions to the prosperity, or the confidence for the continuing flourishing of the nation. In this respect, the sustainable economic development still deserves its relevance to people's gratitude regardless how wealthy the country is.
In conclusion, it looks to me that it is narrow-minded to deny the relevance of further economic development to people's happiness in rich countries.